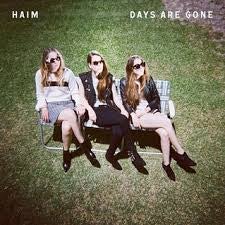 HAIM (like "time") is the hot new girl band that everyone and their cool hipster friend is talking about.
The group is comprised of the Sisters Haim, who hail from the sunny San Fernando Valley in California. After a childhood playing (likely embarrassing) gigs under family cover band Rockinheim with their parents, the ladies split off in 2006 to develop their own sound, influenced largely by R&B and soft rock.
All 3 sisters play guitar. Este, the eldest, also plays bass, while middle child Danielle (who has toured with the likes of Jenny Lewis and Julian Casablancas) leads on vocals. Alana, the baby, dropped out of college to focus on the band (smooth move), lending her fingers to the keyboard. Dash Hutton (no relation) sits behind the drumkit for live performances.
Compare them to some of my favorites:

Last year's Forever EP, released under UK label Polydor, gave us a taste of the group's blend of rock, synth pop and R&B. The recently-released debut album Days Are Gone is a pleasure to listen to start-to-finish. See for yourself:
*my current favorite is "Let Me Go"
You can check out their recently-released video for The Wire here, and click on this link to see them acting silly before covering Miley's Wrecking Ball in their own style (and let's just state for the record that it beats Miley's original) in BBC's Live Lounge
The chicks are the epitome of LA cool.
Check them out live at a city near you!